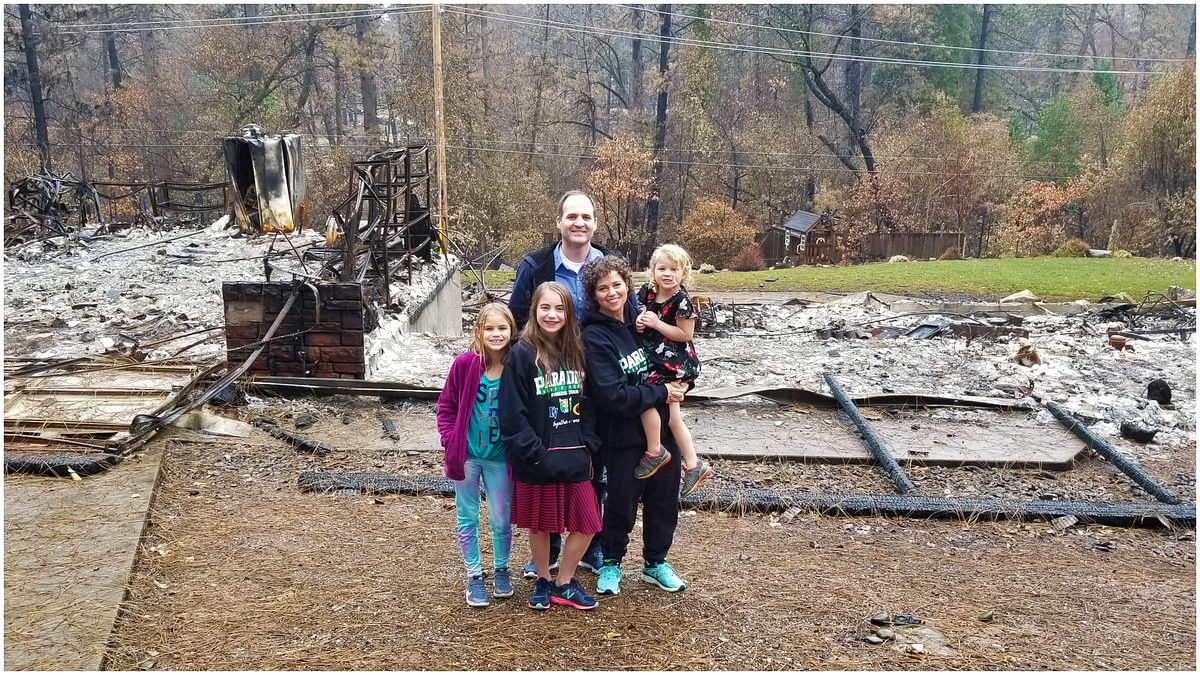 Brynn Chatfield talks to Podsitivity about the hours leading up to the 2018 Paradise wildfire, and how she has overcome losing the only community she ever knew.
Tustin, CA - February 13, 2023 - Podsitivity Podcast with Jolie Hales, an award-winning series of audio documentaries featuring some of modern time's most inspirational true stories, today released "When Paradise Isn't," a 90-minute deep-dive into the story of Brynn Chatfield, the woman whose video of her praying as she drove through flames of Paradise's Camp Fire, went viral.
"We went from being surrounded by flames to being engulfed by flames," Chatfield said. "I remember thinking, 'I don't mind dying, but I don't want to die like this.'"
"I can remember when I first saw that video in 2018," said Jolie Hales, host of Podsitivity. "It has stuck with me all this time because of the raw honesty and unique calmness in Brynn's voice as she drove through that tunnel of fire, when most of us would have probably reacted quite differently -- and understandably so. When I first started hosting this podcast, I knew I wanted to talk to her and get her full perspective -- everything that led up to that moment, and how she coped with such a loss afterwards. She did not disappoint."
The episode features interviews, dispatch recordings, and real 911 calls from the day of the fire, incredible stories of heroism and bravery, along with how members of the local community and world at large stepped in to offer help after the devastation.
"It was horrific, but it kind of restored your hope in humanity," said Daron Wyatt, Chief Information Officer at the Camp Fire, who was also interviewed for the episode.
Wyatt shares having been witness to countless acts of kindness and selflessness from local residents and abroad, including seeing a police officer who lost his own home going out of his way to rescue a woman's father's ashes from the evacuation zone, and former California governor Arnold Schwarzenegger surprising first responders with an unannounced visit to help cook in the kitchen.
"The compassion and love that I saw from people, especially in a world where the news keeps telling us how wicked and how bad everyone is," said Chatfield, "...I think we have a population of good with a few bad, and I think we focus on the few bad instead of noticing that silent majority that are really good people who want to love and serve others."
The Camp Fire on November 8th, 2018, took 85 lives and destroyed 18,804 structures across Butte County, including 90% of the homes in the town of Paradise.
Podsitivity pays reverence to all that was lost, while elevating the aftermath of resiliency and kindness the public doesn't often hear about.
About Podsitivity with Jolie Hales
Podsitivity with Jolie Hales is an audio documentary series that combines authentic interviews with high production storytelling to really put the listener in the shoes of those who have risen out of the ashes of hardship, reached out to help someone, or witnessed an unexplained miracle. Hosted and produced by Jolie Hales, a former Disney Ambassador and award-winning filmmaker, Podsitivity seeks to shine a light on the good in the world.
Podsitivity can be found on podcast platforms globally, with video versions available on YouTube and Facebook.